Please be sure to click the button below to join
Five Crooked Halos
for Five Question Friday!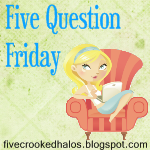 1. What was the most productive thing you have done this week?
We took the first step to a new business venture...a dolly rescue business. We found three dolls, brought them home, and have started to clean them up and identify them. One is a Kissy doll from 1961 in her original dress and shoes. We found her at an antique store named Bohemian Rhapsody in Wharton, Texas. At the same store, we also found a vintage Raggedy Anne, this one having orange hair rather than red hair. The other doll is a Southern Belle doll, but we haven't positively identified her yet.
2. Enjoying the winter or ready for spring?
I am enjoying the cooler days but knowing that hot, hot, hot is right around the corner. We are usually lucky to make it to April before we're into the 90s/100s!
3. Are you an introvert or extrovert? Is your spouse the same as you?
I am extremely shy as well as introverted (two different things). My husband is extroverted and he doesn't have a shy bone in his 6'3" body! I have hermit tendencies and would be perfectly happy to not have to go out in and amongst the throngs of people out there.
4. Would you rather go without music or television for 1 year?
If I had to choose between music and the television, I would happily let television go bye-bye. Music often helps me express exactly what I am feeling. How could I let that go?
5. Have you ever been truly scared of someone?
Yes, and the time that first comes to mind is when I was assaulted at work by some guy that was either high or drunk. From behind, he pinned me against the beer trough/merchandiser and poked me with something hard and sharp-feeling. I didn't know if he was stabbing me or giving me a shot of something or what was happening. I quit that job that night and didn't go back for well over a year, not even as a customer.