Over the last couple of years I have started following many blogs, but don't get the chance to read all of them every day. Today I spent some time visiting a few that come to my inbox. The following meme is hosted by Jenny Matlock at Off On My Tangent blog. Please be sure to stop by to say hello!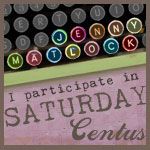 With this meme, we are to write 100 words using the prompt given in any style or genre that we wish to use. This week, the prompt is the following image:
We live in Texas. Some folks told me that it was heaven out here, but I know now that can't possibly be correct. These people have never even heard of tomato sandwiches! I can't imagine living a life so deprived.
I am from South Carolina and one of the best things about summertime was a good ol' tomato sandwich. Sunbeam bread, Duke's mayonnaise, salt, pepper, and sliced tomatoes made the perfect lunch when it was 100+ degrees outside. My granny always had sliced tomatoes with dinner at her house, even at Thanksgiving. I can taste them just thinking about them!